Weber-Horus rod (gold plated)

Hand-held orgone emitter for on the go. e.g. for food, drinks and energetic acupuncture
€188.10 *
€209.00 *
10%

Saved
Prices incl. VAT plus shipping costs
Ready to ship today,
Delivery time appr. 1-3 workdays
Eckhard Weber "The Horus rod is one of my favorites. It is beautiful and can unfold...
more
Product information "Weber-Horus rod (gold plated)"
Eckhard Weber
"The Horus rod is one of my favorites. It is beautiful and can unfold a very great potential. It differs from the Isis orgone-radiator by one essential feature: The orgone-radiator can radiate absorbed bio-energy, in addition to the energies that are generated by its form and material. The Horus wand, on the other hand, may additionally amplify the thoughts of the user. This can create a much greater intensity! After all, we create our world with our thoughts. So if you use your positive thoughts, for example to support someone physically, you can strengthen your own energy by means of the probably existing extraordinarily great effect of the Horus staff. I know of several cases where it is used by users instead of acupuncture needles, because the users perceive it as more intense. It is a pity that this knowledge is rejected as unscientific outside alternative medical circles. I consider humans to be beings who can certainly 'act' as orgone emitters and vibrational potentiators themselves. The Horus staff can then amplify these high vibrations once again. In the hand of a person who wants to achieve good with it, the staff is possibly a wonderful instrument! It can be used equally for oneself as well as for working with others."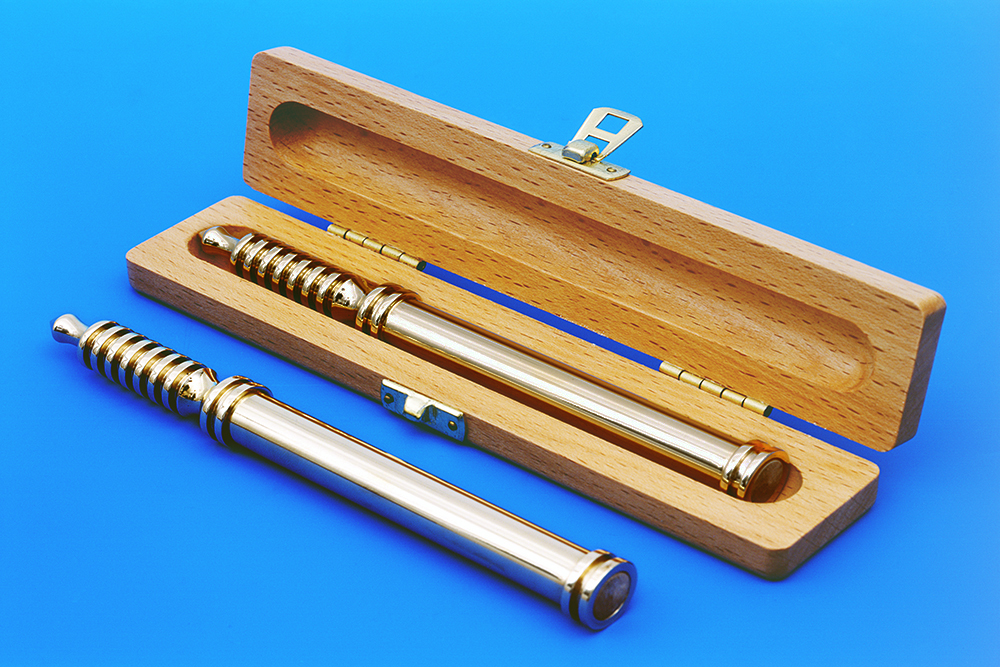 Included is 1 piece Weber-Horus-Staff with wooden box.
Mini orgone emitter
The Horus wand is your perfect companion: this mini Isis orgone emitter can be used everywhere: in a restaurant as well as at a picnic in the countryside, while travelling, in the office or in a hotel. It is as small as a fountain pen and can be easily transported in the included wooden case.
Structure
The shape of the Horus staff may also have something special about it: Its geometry, consisting of seven rings, can amplify bioenergy and can probably increase its intensity by using brass, a gold spiral (inside), rock crystal balls, quartz sand, natural cotton, wax as well as beech wood and a gold alloy (outside). In addition, the Horus rod is constructed in such a way that it does not absorb anything that could negatively influence its energetic effect. Furthermore, the ingredients of the Horus staff can presumably trigger a transmutation of negative vibrations. Additionally, the aforementioned materials are energetically charged with over 1000 positive information and frequencies. The total length of the Horus rod is 14.46 cm.
The bio-energy radiator for on the way
Probably there are disharmonious oscillation fields which can irritate the body. If the Horus staff is pointed at it, these fields can possibly be harmonized. This assumption is based on experience (we recommend at this point that you request the free brochure on the Weber-Isis® Tensors. In this brochure we go into detail about the possible harmonization of disharmonic oscillation fields).
Projection of information
The Horus rod is a kind of magnifying glass for orgone energy: Possibly it can strengthen the existing energy field by its construction and material composition and thus project information and energy into all organic and inorganic substances.
Advantages and application
Energetic acupuncture (often perceived as more intense than acupuncture needles)

Transmission of pure orgone energy possible

Can harmonize food and drinks

Taste and digestibility of food and beverages can increase

Negative sensations can possibly be eliminated

The human body can be charged with orgone energy

The subtle energy work can be supported

Chakras can be harmonized and cleansed

Information of homeopathic remedies can be irradiated

Possibly helpful in color therapy

Positive affirmations can possibly be transferred to oneself (via the solar plexus or directly to the affected area or to neutral information carriers e.g. saline solution)
Application example
The Horus wand is held with the hand in the direction of the plate or glass for about 30 seconds, accompanied by positive thoughts. For example: "I ask that all presumed negative influences on this food and drink are harmonized - and that this food is more tolerable for me afterwards". While one formulates these thoughts inwardly, one can still execute a right turn in spiral form over the meals and drinks with the Horus staff for support.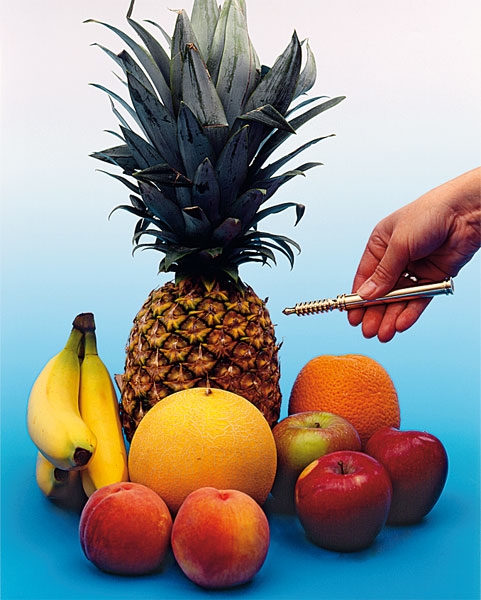 In the scope of supply is 1 piece Weber-Horus-Stab with wooden casket.
Please also note our information
Why we say so little about the effect of our products
Related links to "Weber-Horus rod (gold plated)"
Available downloads:
Read, write and discuss reviews...
more
Customer evaluation for "Weber-Horus rod (gold plated)"
Write an evaluation
Evaluations will be activated after verification.
From:
Engel79
On:
2 Feb 2017
Mann ist begeistert
Mein Mann hatte oft mit Lippenherpes zu kämpfen. Immer wenn es anfing zu kribbeln und es war keine Salbe für Lippenherpes zur Hand ist der Herpes ausgebrochen und blieb Wochen. Wir bekamen einen Tip von einem guten Freund. Bestellt euch doch den Horus-Stab von der Firma Weber, hat er gesagt. Jetzt haben wir den Horus-Stab und mein Mann ist begeistert. Immer wenn es mit dem kribbeln in der Lippe los geht behandelt er seine Lippe mit dem Horus-Stab und der Herpes bricht erst garnicht aus. Hilft auch super bei jeder Art von Schmerz. Man kann auch Lebensmittel entgiften oder Getränke vitalisieren. Wir sind mehr als zu frieden und könne den Stab nur weiter empfehlen. Danke Weber-Bio-Energie