Isis pendulum. No loss of self-energy
€64.80 *
€72.00 *
10%

Saved
Prices incl. VAT plus shipping costs
Ready to ship today,
Delivery time appr. 1-3 workdays
Eckhard Weber: "A long time ago I bought an Isis pendulum at a trade fair. After I...
more
Product information "Weber-Isis® Pendulum (gold-plated)"
Eckhard Weber:
"A long time ago I bought an Isis pendulum at a trade fair. After I had put it in my trouser pocket, I noticed after a short time that I was getting warm and my circulation was getting into overdrive. I remembered the pendulum in my pocket and put it aside again: my perceptions returned to normal. With the pendulum in my pocket, the sensations returned. I practiced this back and forth for a while until I knew for sure: there is a power coming from this! This Isis pendulum, however, did not correspond to my expectations, as it was not neatly worked and also not gold-plated. I then began to experiment with my own designs of my Isis pendulum until, after many attempts, I achieved the desired effect. Word of the special effects of my Isis pendulum spread quickly. Today it is popular with many natural doctors, alternative practitioners and self-users Even a world-renowned Feng Shui master from Hong Kong also works with it!"
The Mini Orgone Radiation
Every geometric body can have a natural vibrational energy, which depends on its shape. This knowledge of the natural radiation of geometric shapes was known long ago in Babylon, Egypt and India. The pyramids and stone monuments, such as Stonehenge, testify to this.
The characteristic Weber-Isis® Pendulum bears the name of Isis, the goddess of all and heaven. Its shape symbolizes the cross of life. The shape of the pendulum, whose possible radiation is probably amplified by a "battery" consisting of four ribs, as well as the materials used, brass, gold, cotton and informed quartz sand, guarantee a very high sensitivity.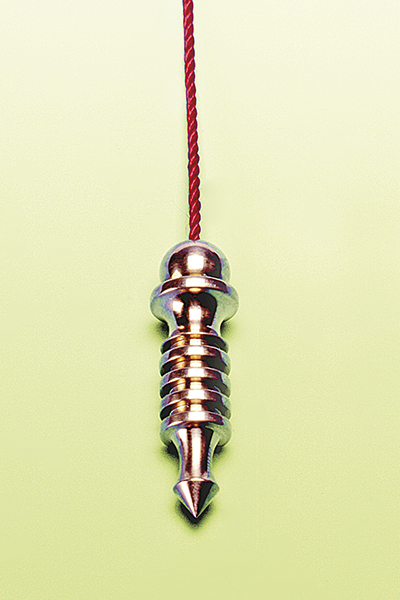 Transmitter and receiver
The Isis pendulum can be a reliable measuring instrument. Working with it is not tiring even over a long period of time. As every geometric body has a natural oscillation energy due to its specific shape radiation (e.g. pyramids), the Isis pendulum can also possibly emit this oscillation energy. The Isis pendulum is made of gold-plated brass, is 5cm long and weighs 26 grams. The string measures approx. 26cm. The pendulum is filled with quartz sand in rock crystal quality, as well as organic cotton. It is delivered in a soft velvet cloth bag.
Due to the filling of the pendulum body with informed quartz sand and organic cotton, it can be used like a small Isis orgone radiator. The gold plating is believed to enhance the inherent radiation of the Isis pendulum.
Advantages
No foreign substances stick to the Isis pendulum.

Energetic work with the Isis pendulum is possible.

The Isis-Pendulum can be sender and receiver of any information on mental command.

The Isis-Pendulum can have the function of a small orgone radiator.
Use
Energy can be sent on mental command.

Checking tolerances to food or similar

In colour therapy.

In chakra diagnosis.

Via pendulum tables.

Testing of sleeping places.

for the localization of possible interference fields.
The pendulum has different ways of making a statement:
I. It can circle right or left.
II. the pendulum can swing back and forth, both horizontally in front of the body and vertically away from the body.
In the beginning, you determine how you want the pendulum to say "yes" and "no." Pendulum swinging is probably a communication with the subconscious mind.
For most, the movement for "yes" is a right turn (clockwise) and for "no" is a left turn (counterclockwise).
Please always keep the rest of the string in the palm of your hand, otherwise you will have two antennas.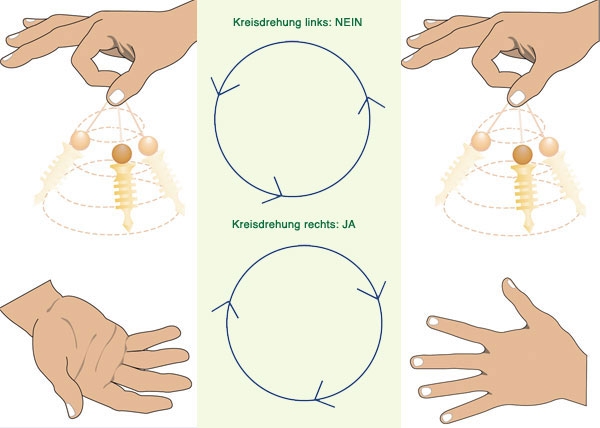 Practice:
Hold an object, such as your front door keys, in your left hand and mentally ask the pendulum, "Do I have my front door key in my hand?" The pendulum will probably indicate this with a clockwise circular swing (clockwise). Then put the key out of your hand and ask the same question. In this case, the pendulum will probably answer with a left-handed rotation (counterclockwise).
After that, you can also use the pendulum to answer questions asked purely mentally. It should always be possible to answer the questions with "yes" or "no".
You can also work energetically with the pendulum. If one says mentally: "This object e.g. gemstones is charged with positive energy or..... cleared of negative energy." Then let the pendulum swing until it comes to a stop. The object is likely to be cleansed with this, or you can consciously swing mental information at something.
Please also see our notes
Why we say so little about the effects of our products
Related links to "Weber-Isis® Pendulum (gold-plated)"
Available downloads:
Read, write and discuss reviews...
more
Customer evaluation for "Weber-Isis® Pendulum (gold-plated)"
This product has no reviews yet. Would you like to create the first review?
Write an evaluation
Evaluations will be activated after verification.